This is a snippet of the original review all3dp.com made on the Bolt 3D printer as one of the Top 14 3D Printers for Education and Schools. For the full article, click here.
BEST 3D PRINTERS FOR SCHOOLS & EDUCATION: Leapfrog Bolt Pro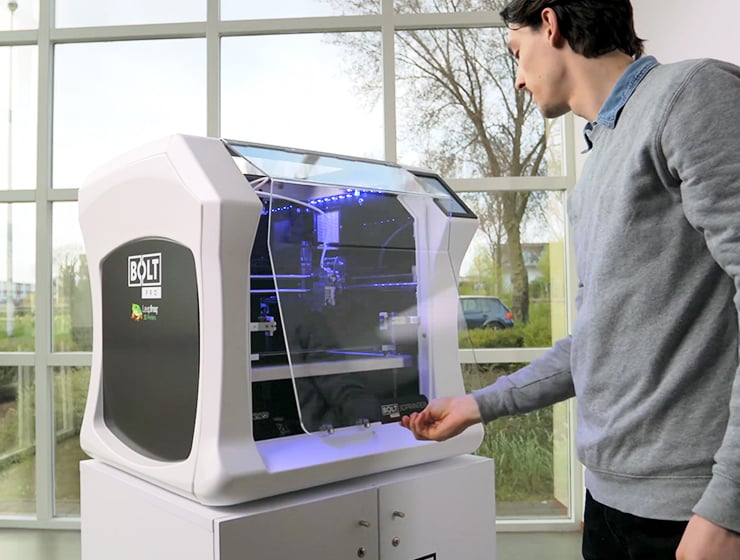 SPECS & FEATURES
Technology: FDM
Print Area (mm): 330 x 320 x 205 (single extruder) 300 x 320 x 205 (dual extruder)
Materials: Leapfrog Maxx Essentials, Leapfrog Maxx Pro
Min. Layer Height (microns): 30
Connectivity: USB-tether, Wifi, Ethernet
Software: Simplify3D (included), Octoprint (in-browser)
Heated Platform: Yes
Suitability: High School, College, Makerspace, Lab
Additional Features: Independent dual extrusion (IDEX), print monitoring camera, HEPA + carbon air filter.
Educational Resources: Online 3D printing courses, primary & high school lesson plans.
THE PRINTER
A solid choice for the upper range of K-12, higher education and professionals, Leapfrog's Bolt is a feature rich desktop 3D printer that outputs professional results. Packing a sturdy, fully enclosed design, the Bolt also boasts HEPA and carbon air filtration systems for removing VOCs and odors emitted from its prints.
It's independent dual extrusion system gives greater flexibility with the option to create prints from multiple materials, or mirror prints to double output. A removable print bed also allows for high throughput if you have multiple beds on the go.
A neat feature designed to aid educators in the classroom is the addition of user profiles Classroom friendly UI that makes use of profiles (with or without admin rights), meaning educators can retain control and students can concentrate on the job at hand.
With Wifi connectivity, the Bolt Pro can also be accessed remotely via any web browser. On-board storage for 3D models can by synchronized with DropBox and Microsoft OneDrive, giving an additional networking tool aiding print management.
THE RESOURCES
Additionally, Leapfrog offers an accompanying curriculum incorporating it's Bolt Pro 3D printer, including lesson plans, projects and testing materials for primary education and high schools, covering the basics through to professional applications of 3D printing.
WHY IS THIS ONE OF THE BEST 3D PRINTERS FOR SCHOOLS / EDUCATION?
Custom user profiles stand out to us as indicative of a machine designed for the shared environment of the classroom. Offering such control for educators, alongside such top-line features as independent dual extrusion and a HEPA air filter make the Bolt Pro solid choice for the school workshop or lab.
Experience the high 3d printing quality of the Bolt Pro. Request a print sample for FREE now!
Do you want to know how 3D printing can HELP you and your business? Talk to our experts about a FREE, PERSONALIZED solution suitable for your situation!