This is a copy of the original review 3Dprinting.com made on the Bolt 3D printers. For the original article, click here.
3Dprinting has also been so kind to write an update about the Bolt Pro. Read it here.
Leapfrog Bolt Review
We had the honor to put Leapfrog's new industrial grade 3D printer to the test. The Leapfrog Bolt.
Perfect for low-volume production / prototyping
Dual independent extruders
Easy to swap hot-ends
12mm solid steel rods
Built-in camera
Control and monitor remotely
Activated carbon HEPA air filtration
Massive print area (13 x 12.6 x 8.1 inches)
3 years warranty
| Reliability | User friendliness | Print quality | Print consistency | Range of materials | Support/Help desk |
| --- | --- | --- | --- | --- | --- |
| | | | | | |
About Leapfrog 3D Printers
Leapfrog 3D printers (not the toys company) was one of the first companies to ship fully assembled 3D printers. Years of experience is now bundled in the form of a industrial grade workhorse, a beast that goes by the name: Bolt.
Unboxing the Bolt
First thing we appreciated was the way the Bolt was packed. A sturdy wooden box to make sure this pre-calibrated machine is ready to print straight out of the box.
Unboxing was an easy task, we had to remove a few screws at the bottom which enabled us to just slide the wooden casing off.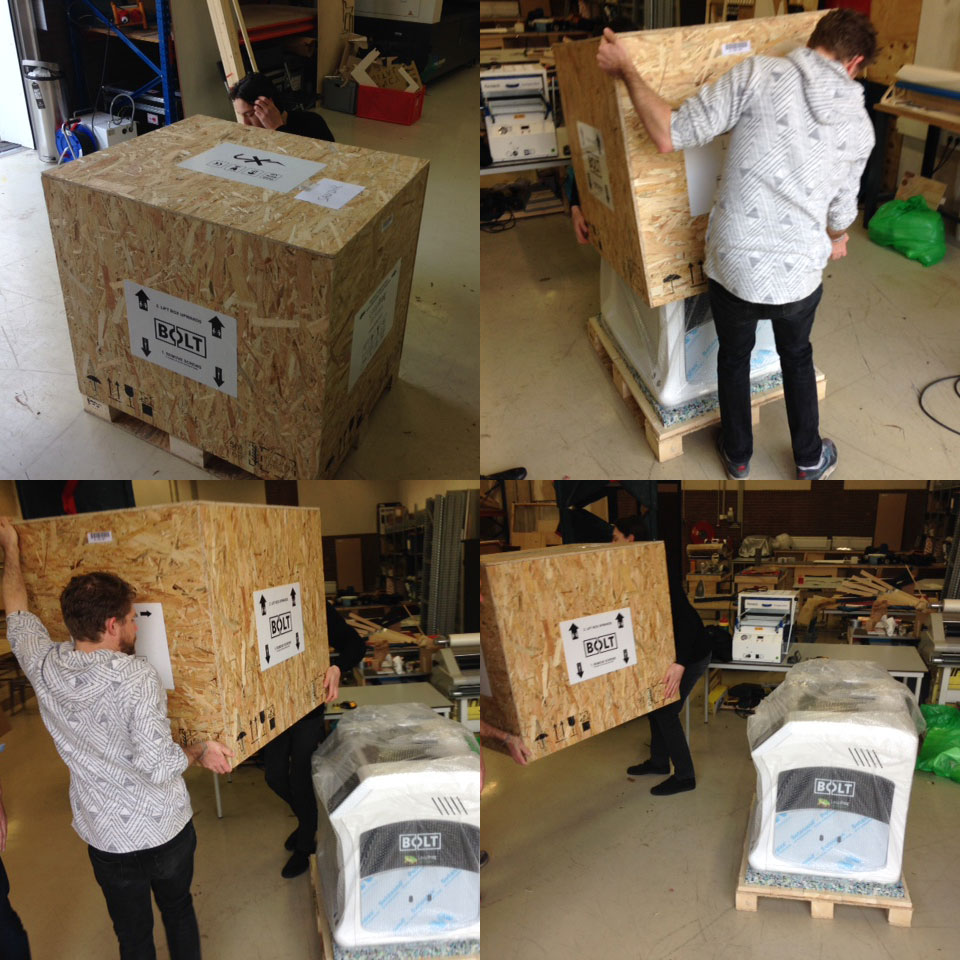 Contents of the box
Leapfrog offers two value packs. A starter pack and an educational pack. We got to test the starter pack which contains:
the Bolt
Slicing: Simplify3D
3x Leapfrog MAXX Essentials PLA
3x Leapfrog MAXX Essentials ABS
Leapfrog MAXX PRO PET-G
Leapfrog MAXX PRO Hybrid
Spare hot-end set
Leapfrog Toolkit
2x Leapfrog Essentials 3D Spray
Leapfrog USB stick
First prints
The Bolt is pre-calibrated and ready to print, so from unboxing to first print took us about 10 minutes.
The setup & control is really intuitive. Both the 7″ touchscreen display as well as their custom built OctoPrint UI add up to the overall usability.
Our first print was a really simple object (a tube for a music speaker). We printed with ABS on the highest quality print settings and were impressed with the smoothness of the surface.
Our second print was a small batch order for an architectural agency. A perfect chance for us to test the Sync-mode. Below you can read more about the Bolt's dual independent extruders and how it can help you speed up production.
For our third print we thought it was about time to really put the dual extruders to the test. We printed a coffee machine mockup. We've split the object into two in order to visualize (for product designers) what's going on in the inside.
It took about 3 days to print and we almost completely covered the print bed. We're very happy with the result.
Bolt features
Sturdy frame / massive print area
Control and monitor remotely
Dual independent extruders
Easy to swap hot-ends
Wide range of printable specialty filaments
Activated HEPA carbon filter
Sturdy frame & massive print area
The Bolt features a rigid frame to make sure you'll maintain great quality print results. It's made of high precision (10 Microns) laser cut aluminum which is connected via interlocked joints. The max. build volume when using one extruder is 13 x 12.6 x 8.1 inches or 330 x 320 x 205 mm.
Control and monitor your print remotely
Leapfrog's engineers developed a custom OctoPrint user interface plugin with which you're able to monitor and control your machine remotely. Just enter the printer's IP in any device with a browser and you should be able to start, pause and cancel prints (you do have to be on the same Wi-fi as the Bolt).
You can also follow a livestream and it automatically generates time lapses. This can be very handy when you, for instance, run a local 3D hub and you would like to update your clients with video footage. We didn't try it, but using a VPN it's not that hard to control and monitor the Bolt from another Wi-fi network.
Independent dual extruder system
Multi material / multi-color. With the Bolt you can print high quality multi-color / multi-material objects. This is due to its ability to move the extruders separately from each other.
E.g. when an extruder is inactive, it moves to the side, in order for it to not drip or ooze on the object. As a result you won't see blobs and other irregularities on the objects surface.Before the inactive extruder starts printing again, it primes and wipes the nozzle. Extruder priming/ wiping is an often underestimated feature of a 3D printer. The Bolt does this by moving the extruder over a piece of flexible plastic, see image below.


Sync-mode
In the example I mentioned earlier we had to print 36 identical objects for an architectural model. With the sync-mode you can cut your print time in half because you slice 18 pieces on one extruder and via the OctoPrint UI you can sync the objects to the other extruder.
Mirror-mode
The Bolt's mirror-mode is useful for making moulds, orbs, left-right parts, without creating its counter part. Prototyping a shoe? Just slice the left and mirror the right.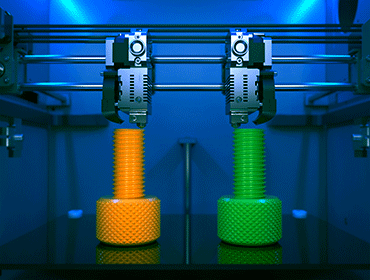 The independent dual extruder gives the user the ability to take on low-volume production / prototyping jobs.
Easy to swap hot-ends
Swapping hot-ends is an easy process with the Bolt. Just unplug, unskrew and replace, see the .gif below.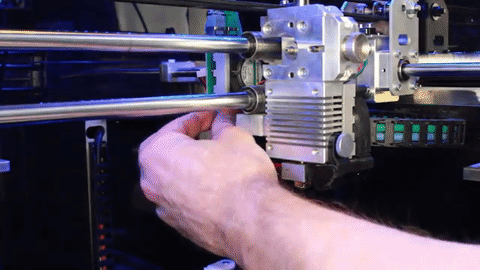 Wide range of printable specialty filaments
The Bolt comes packed with a high temperature hot-end which can reach up to 680 °F / 360 °C. This enables you to print a wide range of specialty filaments.
Besides the temperature of the hot-end there are a few nice to haves when printing specialty filaments. You'll probably want a heated bed that can reach a reasonable temp. You probably want a printer with a closed chamber and last but not least a direct drive filament feeder if you like to print the real flexible materials. The Bolt meets all these requirements.
There are also other types of hot-ends available for the Bolt. There's one with a stainless steel nozzle which makes it suitable to print abrasive materials such as carbon. There's also a 0.8 nozzle for quick and extra strong parts.
Activated HEPA carbon filter
Printing specialty filaments can cause toxic fumes. You don't want those floating around your office. The Bolt's activated HEPA carbon filter has an efficiency of over 99.9% and makes sure and the air released by the Bolt is clean and non-toxic.
Leapfrog Bolt pros:
Independent dual extruders
High precision (10 Microns) Aluminum laser cut interlocked frame
12mm solid steel rods
Closed chamber
The way it's shipped – firm wooden box
Built-in camera & Octoprint enable monitor & control via Wi-fi
Automatic time lapses
7″ touch screen display
Easy to use interface
Extruder priming / wiping
Direct filament feeder
Automatic updates via Wi-fi
Assisted dual head calibration
Real good air flow (cooling fans setup)
Leapfrog Bolt cons:
Glass print surface (although Leapfrog informed us that a granite bed option will be available soon)
Filament tends to tangle when using (cheap) spools with too much filament on it.
Takes a long time to heat up (approximately 5 minutes)
Manual bed leveling
Conclusion
Definitely one of the best printers we've ever tested. The intuitive interface, massive build volume, closed print chamber and independent dual extruders make this printer a true workhorse that will bring your prints to the next level.